R+D+i
SHUTON's R&D&i department is staffed by engineers with extensive experience in the world of machine tools, who constantly explore ways to improve ball screw efficiency, developing recirculating systems, profiles, heat treatment, materials, ... and seek new production and control methods to improve the quality and lead times of ball screws.
That is why we have our own technology centre equipped with machines for measuring torque, rigidity and temperature in static, and high speed and acceleration conditions.
In our engineering department, we have the best CAD / CAM design and manufacturing programs, in order to respond quickly and effectively.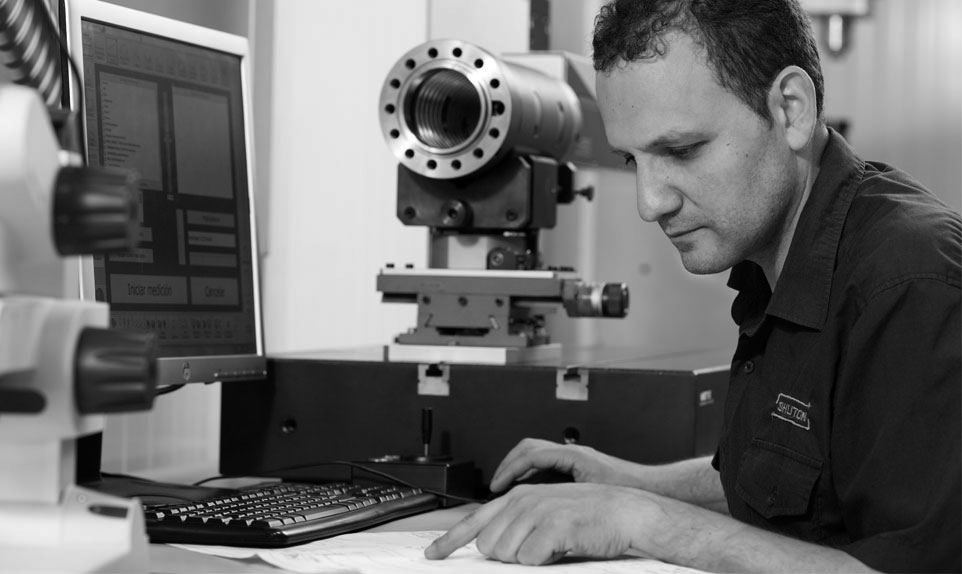 Continuous innovation allows the development of engineering solutions that are applied to the multiple needs of the market
SHUTON COMPLEX
Efficient rigidity focused at improving the machining time in the most demanding production sectors, such as automotive and aeronautics.
SHUTON HIGH LOADS
High dynamics and high loads for the development of plastic injection applications, presses and other heavy duty applications.
SHUTON i +
Solutions for extremely demanding applications include extreme designs of the COMPLEX and HDL references, which deliver efficient results.
SHUTON PRIME
Reengineering of short pitch internal recirculation ballscrew range for optimised positioning and smooth rotation in low speed applications.
CUSTOMISED SOLUTIONS
Double start ballscrews, nuts with cooling systems, triple effect wipers, rotary nut systems, special nut designs, internal shaft cooling, etc.
iBallscrew
iBallscrew smart ballscrew. Monitoring 4.0 allows the detection of lack of lubrication, vibrations or an increase in temperature, which may decrease machining performance and uptime.
PARNERSHIP
WITH RESEARCH CENTRES
SHUTON maintains a close relationship with leading research partners, such as TEKNIKER FOUNDATION, TECNALIA, IKERLAN, LEIA and MONDRAGON UNIVERSITY with continuous technological improvement projects, such as studies and testing in lubrication, noise, response of control units, high dynamics, ...
BALL SCREW ONLINE CALCULATION
SHUTON "Engineering Service" offers its customers comprehensive advice for the selection of the PRECISION BALL SCREW and definition of the optimal use mode for each application, studying the different solutions and detecting needs of new developments that may arise. Soon we will put at your disposal the possibility of online simplified ball screw calculation.
SOON